Polley's fierce and tender adaptation of Miriam Toews' novel is a gripping exploration of faith, love and survival.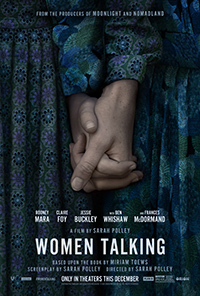 There may not be a Low German word in the Mennonite community for rape, but victims in the rural, cloistered religious colony Sarah Polleyit's burning and moving women talking know exactly what is happening to them. Even more horrible, the culprits are your husbands, brothers and children – your family and neighbors. Now the only question is what to do next? do nothing. Stay and fight. Go out. Those are the options on the table, an impossible choice in a tragic situation, in a film that is both fierce and tender, exploring how self-defense can also manifest as profound acts of love and devotion.
Ona (Rooney Mara), Mariche (Jessie Buckley), Salome (Claire Foy), Mejal (Michelle McLeod), Agata (Judith Ivey) and Greta (Sheila McCarthy) were tasked with deciding the future of the colony's women. And the clock is ticking. Men from the community are in town, seeking to secure bail for those arrested in connection with the rapes. The women have 24 hours before the men return, and the only thing certain is that the life they once knew – and the horrific attacks – cannot continue as they were. So they gather in a haystack over the course of a single day to debate a decision that will change everything.
Joining the women is August (Ben Whishaw), excommunicated as a child by his mother who dared to defy ruling authority but allowed the elders to return and use their training as a teacher to educate the community's male children. The trust he receives from women is largely due to the deep, unrequited love he has had since childhood for Ona, who is kind, beautiful, and pregnant with her abuser's child. The women – who cannot read or write – assigned August the task of taking the minutes of their meeting, helping to organize their thoughts and witnessing. The ultimate responsibility is shared with Autje (Kate Hallett) and Neitje (Liv McNeil), the women's young daughters, who while playing and playing in the haystack are also seeing history unfold before their eyes.
With essence time, women must deal with actions that can have eternal consequences, and this makes for a difficult first act. As we get to know women – from Mariche's incandescent rage to Salomé's dogged cold-bloodedness – they struggle with pragmatic and existential concerns, choosing between their faith, family and home or their safety. To wonder if forgiveness is possible or reasonable, and if God will still allow them to enter the kingdom of heaven. Polley's script initially struggles to establish its narrative and thematic concerns, with the ensemble feeling more like they're spitting dots from a beat sheet than animating a script.
Looking at the notes of Augusta who can't read, Ona identifies the shapes that form the letters, but doesn't understand the curved mark that sometimes appears between them. August explains that they are commas – an indication that the reader should pause or take a breath. And when Polley's film also finds its pace and slows down, the soul of the film – the heartbreaking relationship between August and Ona – blossoms to life. So does the fuller picture of what is at stake for women beyond their security and action in the colony. If they choose to leave, they will be stepping into the uncertain world of 2010, leaving behind a community that may be stuck decades in the past, but is familiar, pastoral and truly theirs.
This is where the bleached photograph from Polley's regular cinematographer Luc Montpellier (Catch This Waltz, Far away) becomes a questionable choice. Made almost monochromatic, the visuals can illustrate the lens of despair through which women now view their community, but it also renders that same community lifeless. This leaves viewers distanced and separated from the houses, fields and forests the women are struggling to get away from.
But if aesthetics are an issue, performances run right past them. Buckley and Foy are particular standouts, each adamant, determined and scared, all ready to unleash hell. However, it's Mara and Whishaw's sparkling chemistry and sensitive, deeply moving work that stands out. Their bond – unbreakable but also untenable – unravels in a fragile thread of tacit recognition between them. Ona knows that August will give her his heart forever. But Ona's heart can only belong to all other women. She is the silent force they turn to, the calm in an incessant storm, and Mara carries her wonderfully with a balance that carries reason, responsibility, and a deep affection for God and the sisterhood around her.
the imperfections of women talking are perhaps also what makes Polley's film undeniably honest and rooted in unshakable emotional realism. There is no arc to be wound in this story or an elegant approach to telling. The anger, hope and uncertainty of all these women feel can do nothing but collide and clash as they search for a way forward. In the book by Miriam Toews, on which the film is based, August writes in her notes that Ona "will be my Polaris, my Crux, my north and south and east and west, my news, my direction, my map and my explosives. , my shotgun." So too she is the anchor for all she leads, united by love and united by faith, riding into the unknown, with a first in the air and a thumb aligned with the stars of the Southern Cross guiding her way.
Revised September 13 at the 2022 Toronto International Film Festival – Special Presentations. 104 Min.
★★★½/☆☆☆☆☆
Source : www.ioncinema.com