Blow-Out: Twice Told Tales Unravel in Panahi's Layered Documentation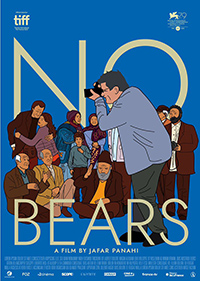 Borders and Borders and Bears, Oh My! The perpetually limping Iranian author Jafar Panahi continues to impress with innovative ways of doing his job, despite being able to leave the country in no bears, another metatextual endeavor in which he once again places himself at the center of the narrative. In essence, his last one is really about visibility defined by unseen forces that dictate perceptions and parameters. Two parallel sets of star-crossed lovers trying to move on despite considerable restrictions play out in both real-time and reenactment, both building to an inevitable tragedy.
Panahi explores, through himself as a storyteller, how those who actively participate or whose lives are coincidentally intertwined in his craft of 'seeing' are invariably affected. But the real danger shines through on the periphery whenever cameras aren't around to record, suggesting that cinema can be a catalyst but also a safety net.
As usual with Panahi, it takes some time to get your bearings on the events of no bears, undoubtedly one of the director's most complex undertakings. A couple trying to secure fake passports in Turkey to escape to France turns out to be a new project that Jafar is directing from afar, stationed in a small border town, Jaban, Iran. While the internet is fickle, requiring their assistant director to drive filming across the border daily, villagers delve into their own specific drama built around a potential photo Panahi took of two young lovers under a walnut tree.
The young girl, Gozal, is betrothed from birth to a man who is not too pleased to see a disgraced university student return to the village to take her away. The photograph would allow the city sheriff to take legal action. The situation is compounded by Panahi's exploration of the border outside the village, an invisible line he cannot legally cross due to his own well-publicized problems that keep him in the country. But his mere presence interrupts the clandestine operation of smuggled goods on which the inhabitants survive. The obsession with what Panahi might have captured in photography is reminiscent of Antonioni's Blow-Up (1966), with its reflection of the scandal that threatens violence. Meanwhile, the Turkish couple appear to be starring in a re-enactment of their own escape experiences together, but Zara (Mina Kavani) is triggered by a situation with the smugglers and the struggle to get her diabetic husband, Bakhtiyar, out of the country.
The camera gives and the camera takes away seems to be a thread no bears, with an initially amused Panahi increasingly annoyed at the endless interruptions dictated by the village's specific traditions, inadvertently placing himself at the center of a dilemma that spirals out of control. The title is in reference to the dangers of certain areas and roads in the village, although these bears are just a story to scare people, as fear keeps most people in place, and those who know the truth have free passage. Their interconnected stories have two distinctly different visual styles from DP Amin Jafari, with the village sequences reminiscent of the tone of 2018's last Panahi feature. three faces.
As self-referential as ever, no bears evokes the innate contradictions of what cinema can do or be, recording a version of reality and, at the same time, struggling with the desire for some kind of authenticity in relation to human experiences. But the camera also has a way of distorting intent. Likewise, the potential trauma of cinema, both in its creation and in its consumption, is inherently a process of returning, of coming back, of seeing things anew. At the end of the day, bears are certainly not the problem, whether real or imagined.
Revised September 9 at the Venice Film Festival 2022 – In Competition. 106 Min.
★★★/☆☆☆☆☆
Source : www.ioncinema.com