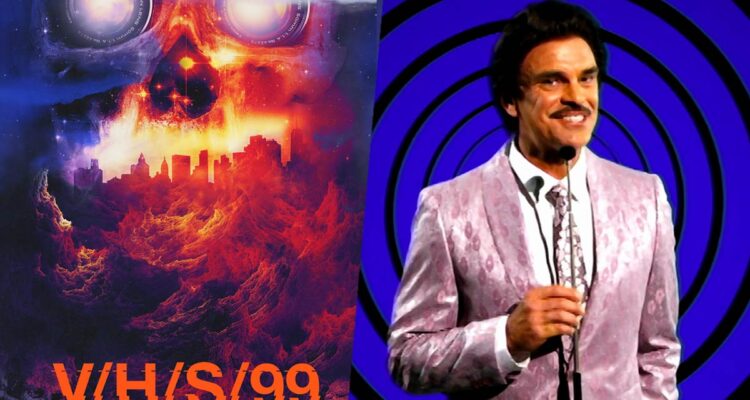 Ready for another dose of bloody nostalgia? The V/H/S franchise satisfies found footage fanatics with its latest entry, "V/H/S/99." Set in the late 90s, this new project captures a period filled with fears (real and imagined) about a new millennium. Changing times also mean an entry that plays by its own rules. "V/H/S/99" skips the usual structure of the series – opting to focus on a tape. What follows can only be described as layers of horrible recordings mixed with the unmistakable static of used VHS tapes.
The project maintains the reputation of this popular film series for promoting talented filmmakers. flying lotus, Maggie Levin, Tyler MacIntyre, Johannes Roberts, Joseph Winterand Vanessa Winter direct the ensemble of short films – with each also writing the scripts for their respective contributions. The segments deal with relevant themes that strike terror in the hearts of teenagers and adults. The stories range from a dangerous hazing ritual to a surprising trip to hell; all with the shocking scares viewers expect from a V/H/S title.
READ MORE: 'V/H/S/94': A nostalgic horror anthology that clicks mostly [Fantastic Fest Review]
Official movie synopsis:
"V/H/S/99" harkens back to the final days of VHS analogue punk rock as it takes a giant leap into the hellish new millennium. In "V/H/S/99," the home video of a thirsty teenager leads to a series of horrific revelations.
A single tape can lead to unspeakable terror in "V/H/S/99". The movie premiered this year Toronto International Film Festival before going to fantastic party. It premieres exclusively on Shudder on October 20. Subscribers in Canada, UK, Ireland, Australia and New Zealand can access the film on the same day as its US release. Watch the first trailer below.
Source : theplaylist.net